Oil Refineries, Petrochemicals & Fertilizers
Polyester Plant PET-3 for M/s Reliance Industries.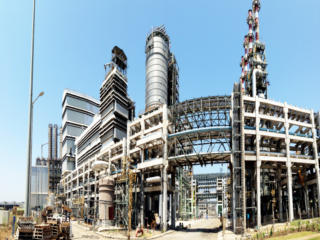 Client -
M/s Chemtex Global Engineers Pvt. Ltd.
Project comprised of -
CP Building, SSP building, Substations, Tank farm, Product silos, bagging silos, etc.
DXL Scope -
Included entire Civil, Structural and Architectural from Concept to commissioning as well as structural steel and reinforcement shop fabrication drawings. Entire engineering and detailing was carried out on 3D Model platform using Tekla.
LDPE Plant Stream lll for M/s. QAPCO at Qatar.
Client -
M/s. UHDE India Ltd.
Critical structures like silo supporting structures Extrusion building, Logistic building, Degasing silos etc. were designed by us. Structures designed as steel and concrete composite structure and designed as per Euro codes EN 1994 (EC4).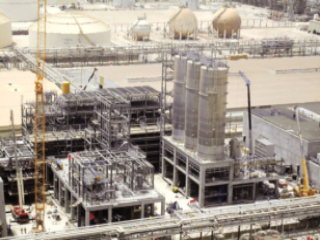 | Project Title | Client | Location |
| --- | --- | --- |
| Revamping for New Propane Gas Compressor Installation for LPG-1 plant, ONGC | M/s Savair Energy Ltd | Uran |
| Hydrogen Plant at NOCL | M/s UHDE India Ltd | Cuddalore Refinery |
| 450 TPD Sulphuric Acid Plant at M/s Bodal Chemicals | M/s Bodal Chemicals | Vadodara |
| LDPE Plant Stream III for M/s QAPCO | M/s UHDE India Ltd | Qatar |
| 300 TPD Sulphuric Acid Plant M/s Kolwezi | M/s Monsanto Enviro | Zambia |
| Used Oil Re-Refining Plant at M/s Agas Lubes | M/s Agas Lubes | Baharain |
| Urea Granulation Plant | M/s UHDE India Ltd | Alegeria |
| 900 TPD Spent Acid Regeneration Plant at M/s Reliance Industries Ltd | M/s MECS - USA and MEPL - India | Jamnagar |
| HDPE Plant at M/s IOCL | M/s UHDE India Ltd | Panipat |
| Relocation of HDPE Plant and Olefins Plant to IPCL, Gandhar at M/s Reliance Engineering Associates Ltd. | M/s Reliance Engineering Associates Ltd | Navi Mumbai |
| Water Substation and Jetty Substation | M/s Kvaerner Power Gas | KG-D6 at Krishna Godavari Basin, for M/s Reliance |
| Piperacks for Kuwait Oil Company | M/s Petrofac International | Kuwait |
| Table Top Foundation for Recycle Gas Compressor | M/s Toyo Engineering | M/s Yanbu |
| Kashagan Development Experimental Program | M/s Petrofac International | Kazakhstan Greenfield Refinery. |
| 450 TPD Sulphuric Acid Plant M/s Mopani Copper Mines | M/s Monsanto - DMCC Enviro Tech | Zambia |
| FSA RECOVERY PLANT at M/s Hindalco Industries Ltd | M/s Monsanto - DMCC Enviro Tech | Dahej |
| 4 X 150 T/T FIBER SPINNING PLANT at M/s Reliance Industries Ltd | M/s Kvaerner Power Gas | Hazira |
| ES Area & CP Building at M/s Triveni Petrochem | M/s Chemtex Global Engineers | Nepal |
| Spent Acid Regeneration Plant at RED LION Refinery | M/s Monsanto - DMCC Enviro Tech | Delaware USA |
| 1300 TPD SULPHURIC ACID PLANT at M/s Birla Copper | M/s Monsanto Enviro | Dahej, Gujarat |
| COMPRESSOR HOUSE | M/s Toyo Engineering | M/s Numligarh Refinery |
| HAZIRA POLYESTER COMPLEX at M/s Reliance Industries Ltd. | M/s Chemtex Global Engineers | Hazira |
| EARTHEN WATER RESERVOIR | M/s Birla Copper | Dahej |
| SAFCO - BFW BUILDING | M/s UHDE India Ltd | |
| 300 TPD SULPHURIC ACID PLANT | M/S COROMANDEL FERTILISERS | M/s Monsanto - DMCC Enviro Tech |
| NG3 Plant at Reliance Industries | M/s Kvaerner Power Gas | Hazira |
| 3RD CONCENTRATION UNIT OF PHOSPHORIC ACID CONCENTRATION PLANT at M/s Paradeep Phosphates Ltd., | M/s Monsanto - DMCC Enviro Tech | Paradeep |
| 100 TPD SULPHURIC ACID PLANT at M/s National Company of Sulphur Products | M/s Monsanto - DMCC Enviro Tech | Riyadh Saudi Arabia |
| 15,000 TPD ECOMOL PLANT | M/s Praj Industries | M/S HANIL ERA TEXTILES |
| SMELTER COMPLEX AT DAHEJ | M/s Kvaerner Power Gas | M/S BIRLA COPPER |
| POLYPROPYLENE WARE HOUSE at M/s Reliance Polypropylene | M/s Kvaerner Power Gas | Hazira, Gujarat |
| PETROLEUM HOUSE Reliance Industries | M/s Kvaerner Power Gas | Navi Mumbai |
| 3300 TPD SULPHURIC ACID PLANT III for Birla Copper, | M/s Monsanto - DMCC Enviro Tech | Dahej |
| EQUIPMENT SUPPORTING STRUCTURES at M/s Bausher Chemicals | M/s Monsanto Enviro | Oman |
| PLANT & OFFSITE STRUCTURES FOR LNG TERMINAL at M/s Petronet | M/s Toyo Engineering | Dahej , Gujrat |
| BAGGING PLANT & UTILITY BLDG at M/s Supreme Petrochemicals | M/s UHDE India Ltd | Nagothane, Maharashtra |
| P2 x 20,000 MT. AMMONIA STORAGE & ALLIED FACILITIES at M/s Oswal Chemicals & Fertilizers | M/s Toyo Engineering | Paradeep, Orissa |
| OFF SITES & UTILITIES at ESSAR | M/s UHDE India Ltd | Hazira, Gujarat |
| SSP PLANT for M/S SHAW WALLACE | M/s Monsanto - DMCC Enviro Tech | Chennai |
| 400TPD SULPHURIC ACID PLANT at M/s Hind Lever Chemicals | M/s Monsanto Enviro | Haldia, West Bengal |
| NAPTHA STORAGE AND HANDLING FACILITIES at M/s Chambal Fertilisers & Chemicals | M/s India Tube Mills | Kota, Rajasthan |
| 50 TPD SULPHURIC ACID PLANT | M/s Falcon Chemicals | Dubai for M/s Falcon Chemicals |
| MCD PLANT AT M/S BASF INDIA | M/s UHDE India Ltd | MANGALORE |
| Ware House, Canteen, Microwave Tower | M/s Essar Refineries | Jamnagar, Gujarat |
| EPICHLOROHYDRINE PLANT for Tamilnadu Petroproducts | M/s UHDE India Ltd | Manali, Chennai |
| SALT HANDLING UNIT at M/s Indian Petrochemicals Co., | M/s UHDE India Ltd | Gandhar, Gujarat |